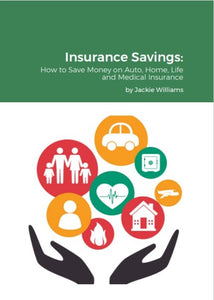 Are you ready to save big on insurance? If so, this ebook is for you! Insurance Savings: How to Save Money on Auto, Home, Life and Medical Insurance is packed with information to help answer your questions about saving money on insurance. Whether you're a first-time homebuyer looking for ways to reduce the cost of your mortgage or an experienced driver who needs tips to cut back on auto insurance premiums, this ebook has it all!

We know that insurance can be confusing and tricky - but it doesn't have to be expensive. With this ebook, you'll get expert insights into strategies that could save you hundreds (or even thousands!) of annual insurance costs. We'll show you the ins and outs of everything from comparing policies to figuring out discounts - so nothing will stand between you and those significant savings!

Plus, our easy-to-understand explanations make sure nothing will be lost in confusion. We also break down each topic into digestible chunks that are digestible for both novice and experienced readers alike. It's never been easier to get informed about your insurance options and start saving today!

Don't wait any longer - grab a copy of Insurance Savings: How To Save Money On Auto, Home, Life, And Medical Insurance now and start saving money!