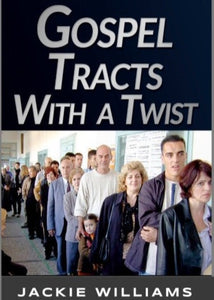 Gospel Tracts with a Twist is a series of books based on Luke 8:5-15 that deals with the issues people face when the Word of God is shared with them, but the cares of the world, times of testing, and the Devil presents itself.

No matter your stage, you will see yourself in Gospel Tracts with a Twist.

Contains the following stories:
Has the Recession Gotten to You too?: After facing a layoff, a married, middle-aged couple must decide one thing? Will they trust God or not?

Should She Answer: Christian, single women are homely and lonely right? Wrong! Some single women have plenty of male suitors who come calling. But the question is, should they answer?

Get Out!: You've just come home to find an eviction notice on the door of the house that you are renting. How do you react? Like, Angie or Susan?

Satan's Letter (additional dialogue by J Marie Booklets): Rose and Celestine are two Christians not living for Christ. And boy, does Satan have a letter for them.