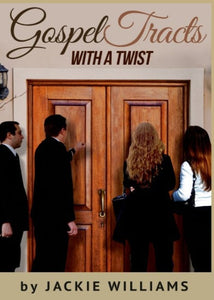 Gospel Tracts with a Twist is a series of books based on Luke 8:5-15 that deals with the issues that people face when the Word of God is shared with them, but the cares of the world, times of testing, and the Devil presents themselves.

No matter your stage, you will see yourself in Gospel Tracts with a Twist.

It contains the following stories:
What God Hears Every Day: The members of Rivers Flowing Church have gotten permission from an apartment complex landlord to go and share the gospel of Jesus Christ. With each door knocked on, read how God moves in the lives of the residents and the members' lives.

Open Mic: Satan has decided to step up to the microphone and read some poetry to you. This should be interesting.