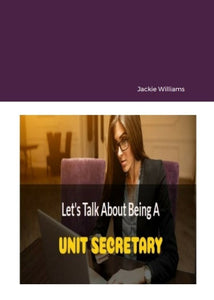 Let's Talk About Being a Unit Secretary
is the perfect guidebook for anyone looking to get their foot in the door in the healthcare industry. From what exactly a Unit Secretary does and how it fits into the hospital organizational structure to tips and advice on preparing your resume and acing your interview -
Let's Talk About Being a Unit Secretary
is the comprehensive resource that will help guide you through every step of applying, interviewing, and ultimately starting your new career as a Unit Secretary.
With insight from a real-life healthcare professional, this book provides an insightful look into one of the most advantageous positions in the healthcare field today. Perfect for those just starting and seasoned professionals looking to make a career switch, Let's Talk About Being a Unit Secretary has something for everyone!
This book empowers readers to confidently and effectively pursue their goal of becoming a Unit Secretary. Learn valuable skills and advice to set you apart from the competition and help you build a strong foundation for a successful healthcare career.