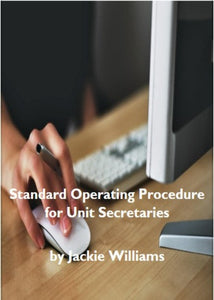 Introducing the Standard Operating Procedure for Unit Secretaries​ – a comprehensive guide to ensuring efficient and effective communication within the unit. This ebook offers an easy-to-understand framework that outlines the roles, responsibilities, and processes needed to ensure effective communication between all stakeholders in a unit. 
Each section includes step-by-step instructions to help you build a solid foundation of communication protocols within your unit or organization.
With this book in hand, you can confidently create streamlined processes that ensure everyone understands their roles and exactly what is expected of them.
The Standard Operating Procedure for Unit Secretaries will help you develop and maintain high organizational efficiency and effectiveness.
Don't wait any longer – make sure your unit is up-to-date with the latest standards today!