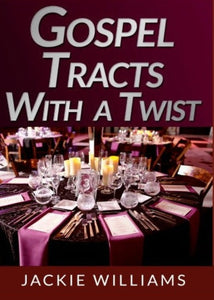 Gospel Tracts with a Twist is a series of books based on Luke 8:5-15 that deals with the issues people face when the Word of God is shared with them, but the cares of the world, times of testing, and the Devil presents itself.

No matter your stage, you will see yourself in Gospel Tracts with a Twist.

The Rich Man: Darrel is a rich man whose fascination with material gain risks his soul.

The Speck: A Christian woman, Barbara, has discovered her unmarried daughter is pregnant. But how can she judge her daughter's decisions when she made the same ones?

The Third Table: The members of Rivers Flowing Church have gathered for the wedding of one of their own. But only some people are happy with the flowers or seating arrangement.

To and Fro:  The ever-wandering evil one, Satan, is up to his old tricks again. This time, he's hell-bent on destroying man once and for all. But before he can carry out his diabolical plan, he must know what man is up to.

That's where his little spies come in - undetectable to the human eye; they can slip into any home or business undetected to listen in on conversations and gather intelligence. With this valuable information, Satan can better plan his attack and ensure humankind dies.