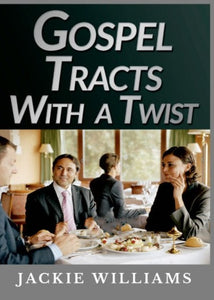 Gospel Tracts with a Twist is a series of books based on Luke 8:5-15 that deals with the issues people face when the Word of God is shared with them, but the cares of the world, times of testing, and the Devil present themselves.

No matter your stage, you will see yourself in Gospel Tracts with a Twist.

Lunchtime Debate: In Lunchtime Debate, a mysterious guy enters the break room where a group of friends is having lunch. The conversation soon turns from religious freedom in the workplace to a debate on religion itself.

Quick Riches: It's Super Bowl Sunday in Quick Riches, and a mysterious guy talks to a recovering gambler and new Christian about the temptations of quick riches. Who will win this test – riches or Christ?

Keep Her Quiet: In Keep Her Quiet, a mysterious guy confronts a mistress about her relationship with a married man. Is this the push that she needs to end the relationship?

Satan's Convention (additional dialogue by J Marie): In Satan's Convention, Satan called a worldwide meeting with his demons to lay out his plans to destroy every Christian's relationship with God.