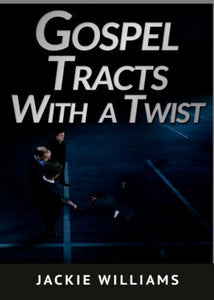 Gospel Tracts with a Twist is a series of books based on Luke 8:5-15 that deals with the issues people face when the Word of God is shared with them, but the cares of the world, times of testing, and the Devil presents themselves.

No matter your stage, you will see yourself in Gospel Tracts with a Twist.

A Pastor, a Church Elder, and a Church Member All Walk Into A Convenience Store: A man is attacked and left for dead. A pastor, a church elder, and a church member all see him wounded. Which one do you think will stop and help?

Motivations: Two friends go shopping for wedding gowns. A mysterious guy helps them look for wedding dresses and also looks at their motivation for getting married.

Satan's Garage Sale: Satan is having a garage sale. Have you bought anything that he's selling?